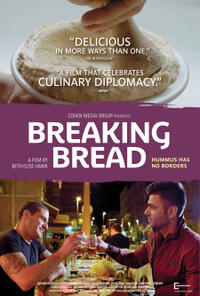 Breaking Bread goes beyond simply showing how this food product can be delicately designed. There's many ways to make it, bake it and serve it. What's presented is more than an attack on the taste buds. To know what it represents to bring peace along the Gaza Strip is at the core of this work by filmmaker Beth Elise Hawk. Her film is excellent at highlighting how this part of the world operates because it shows not everyone is an extremist. They're just business and everyday people too.
This work carefully looks at the life and times of many restaurateurs of different local nationalities and cuisine. In terms of how many operations were profiled, I lost track after counting at least twelve. 
This feature-length work spends a lot of time in Haifa, Israel, though. It's here where people from all nationalities live in harmony rather than conflict. Quando Pasha Restaurant is a place I'd love to visit, and should I ever manage to visit this part of the world, I better be ready to pack these meals in! In what's presented will tempt some to travel there, but for those still cautious, a cookbook is coming, offered by the producers of this film–and all anyone has to do is sign up online.
As a food mecca, it's very possible to taste all neighbouring countries' styles as restaurants are located either a few doors down from each other or a city block away. In addition to the bread theme, we also see how other proteins are cured, and how important those fishing and exchange industries are to the grander scheme. The cinematography shows just why the food here is so colourful, multi-flavoured and scrumptious, especially when shown fresh off the oven or grill. 
Why breaking bread matters is to promote brotherhood. We have a lot of folks interviewed, and they all share a common belief–put on a huge food festival, and everyone will come. They won't care about your skin colour or religious belief when there's all this delicious food to see and chow down on. At this film's centre is the plot on how to have the festival going despite the "problems" happening outside. There'll always be concerns, but to be too cautious can also bring disaster. Fortunately, what this film promotes is that unity can be achieved, one morsel at a time.
(PARTIAL LIST) IN THEATRES
Pacific Northwest Screenings are underlined.
ON FEBRUARY 4
New York City // Quad Cinemas 4 / JCC Manhattan
Los Angeles // Nuart Theatre
EXPANDS FEBRUARY 11
Los Angeles // Town Center 5 / Playhouse 7
San Francisco, CA // Opera Plaza Cinemas 4 / Shattuck Cinemas 10
Santa Barbara, CA // Metro 4
Boston, MA // Landmark Kendall Square Cinema
EXPANDS FEBRUARY 18
San Diego, CA // The Lot 7
Denver, CO // Chez Artiste
Atlanta, GA // Midtown Art Cinemas 8
Chicago, IL // Renaissance Place 5 
Portland, OR // Living Room Theatre
EXPANDS FEBRUARY 25
Albany, NY // Spectrum 8
Indianapolis, IN // Keystone Arts Cinema 7
St. Louis, MO // Plaza Frontenac Cinema (Frontenac)
EXPANDS MARCH 4
Seattle, WA // SIFF Cinema
For a complete list and showtimes, please visit the official website.