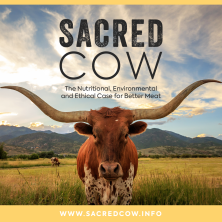 Available on Google Play.
For other platforms or to purchase the DVD and companion booklet, please visit the Sacred Cow website.
The documentary Sacred Cow is packed with lots of information which weighs in on the pros and cons of consuming meat. It's ultimately about our role in the food chain, being responsible for how this bovine is treated (prior to slaughter), and the cycle of life. Just what modern man does is no different when compared to the early days of civilization as they rose and flourished. Those that fell, we can learn from.
From a hunter-gatherer to agricultural society, is there another evolutionary step humanity must make? I'm not entirely against replicated meals ala Star Trek, but the concept will be alien to many. It's good that nobody knows how to reconstitute waste into food at a molecular level, otherwise foodies from the future will be in an uproar.
I'm sure sometime in the next century, people will lament about the lack of tasting real food from their home planet, and will have to eat Gagh (Klingons love their worms) instead. If meat is no longer available, bugs are the next most common protein source and will anyone want to save those?