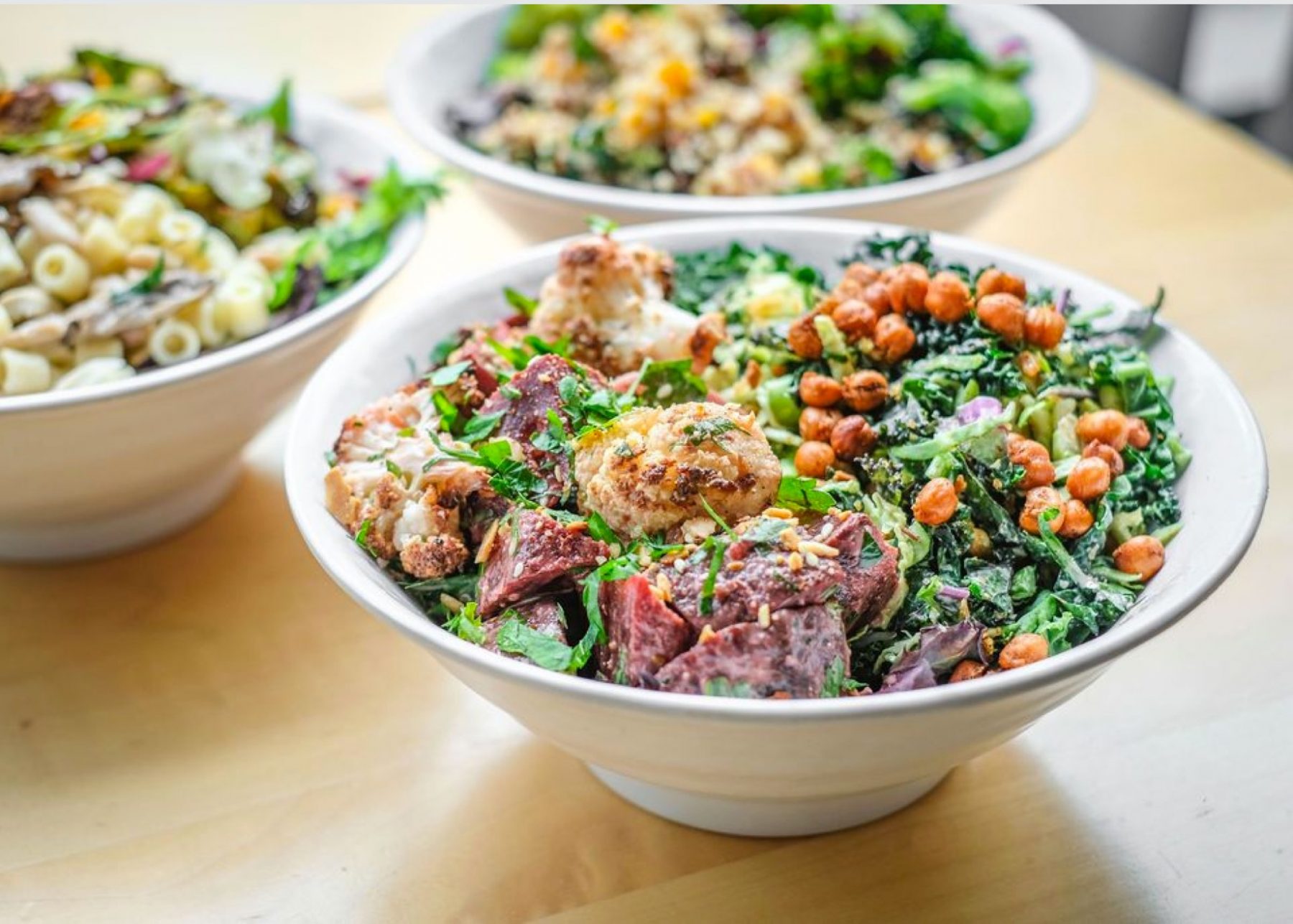 Tractor Everyday Healthy Foods
805 Government St
Victoria, BC
Hours: Mon to Sun 8:00am to 8:00pm
Phone: (778) 247-0354
Menu: tractorfoods.com
ES: From sandwich shop to soup kitchen (if it can be called that), the deli turned health food stop certainly knows how to serve the soups and stews up warm and fresh. They also know keeping a few luncheon staples folded between breads is still important. The operation is now known as Tractor. They have farm fresh in mind, and my meal was cozy enough to warm me up on a wet day while downtown Victoria, BC.
DK: While waiting for Ed a young man in a suit passed by along Government Street. Not a suit, suit. More an "I'm here for a conference and I need to look fresh and clean when the gang goes out on the town" suit. Anyway, while striding by one of his companions asked if he'd ever been to Tractor, and what his opinion was. "Nice aesthetic, but pretty expensive," was the man on the street's reply.
I do not agree with this man on either point. Tractor is a chain and it looks like one. It feels completely sterile. Like if Whole Foods designed a hospital cafeteria. As for price; $10 for a falafel wrap certainly isn't cheap, but it's in line with market prices in our city. A kale caesar wrap at Freshii is approximately the same price. Even Yalla has upped their falafel price from $8 a few years ago to $11.50 now. Tractor's pricing is pretty average and, appropriately, so is their food.
ES: When dealing with a corner of the city that I call Tourist Central, perhaps the irony is that nobody local is always willing to stop here for a bite. There's a few gems further up the street, but for here, it's like nothing changed. Unlike their publicity photos, I wondered what we stepped into. Either we came in as they were redecorating or this operation decided for minimialist decor.
Given that we were here around dinner-time, the popular dishes were gone. I went for the Moroccan Chicken. It's tasty enough to keep my appetite sated for the day, but it wasn't really anything spectacular. It was okay. Thankfully the turmeric spiced latte fared better. They have a very good range of coffee style drinks.
DK: After staring at the salad troughs for a few minutes, I settled on a sweet potato falafel wrap. The textures within this wrap were unexpected and a bit off-putting for me. I enjoy crunching through the exterior of a falafel. The sweet potato falafel was a bit more like biting into mashed potatoes. That juxtaposed against crunchy chickpeas just wasn't doing it for me mouth feel-wise. Flavour-wise I leaned hard on my cup of tahini sauce to help this wrap excite my tastebuds. It's not that it was bad, just a little boring.
ES: You'd think Tractor would be on their a game to draw the hungry tourists in. It's across the Inner Harbour, where boat visitors arrive. They are trickling in now that travel restrictions have lifted somewhat. I doubt this place will ask for proof of vaccination.
Would Don or I be back? All I can say is that when the conventions return to the nearby event center, this place is an option for those who aren't fussing about what they eat. This company has the fuel to feed but not the fire to wow the tastebuds.
3 Stars out of 5