Boomtown
950 Yates St
Victoria, BC
Hours: Open every day from 11:30 am to 9:00pm (10 on weekends)
Phone: (778) 265-9150
Menu: boomtownyyj.ca

ES: Don't ask me why, but when Don suggested we check out Boomtown for some fancy Mexican style food, I had to cue up Vengaboys to listen to while downtown. It's a diner located opposite the Harris-Green Shopping Centre, and it can easily be missed by those who aren't looking.
DK: We spent the night together, watching Sandra Bullock search for a hidden tomb in the movie afterwards.
Boomtown is in a spot that has housed a revolving door of different cafes, food trucks, and weed dispensaries over the last decade. Back in 2013, the Refiner Diner was parked in this spot, and I still have fond memories of their burger (Ed gave it a 4/5 way back when). Does Boomtown carry on the 950 Yates legacy in style? Ed, what say you?
ES: Just how well the food tastes depends on how it's put together. As a wrap, the flavours are jumbled together. When presented as a bowl, I can pick through the parts I enjoyed, namely going after the squid! We weren't sure which of their appetisers would be best to start with.
Eventually we settled on the tater tots; they were mildly spicy and had a good kick. Supposedly, this place offers more than just that type of ethnic food. According to their website, there are other options.
On the day Don and I stopped by, the QR code only showed us burritos and bowls. We could decide on one of five protein toppings. It didn't take long for me to decide to swim with the whales. The Humboldt Squid sounded tantalising, and they were well cooked; all it took was a squeeze of lime to make the meal spring to life.
DK: Our experience with the tots and doughnuts makes me wary of recommending any of the snacks here. $12 gets you a roughly 5×8 inch, single layer tray of tots. As a happy hour dish, it might be worth it, but at full price it's an appetiser that lacks value or excitement. The doughnuts were just forgettable.
A Chek News interview from December, and the general vibe on the patio when we attended, suggests the focus here is less on food and more on creating a fun place to drink outside.
That vibe could be helped by a DJ or band. Boomtown will probably appeal mostly to those looking for a good burrito to-go–or a quick summer pre-drink stop. For the take out crowd, I would recommend the Green Chilli Chicken Birria burrito. Great texture to the black beans and rice and a nice mix of flavours. For the boozers, Ed reported his mezcal cocktail to be rather stiff, so that's a plus. Ed, would you recommend Boomtown as a good place to get liquored up?
ES: Definitely! They have a fairly good selection of IPAs and popular beers. I was more intrigued with their cocktail offerings, and was certainly craving a mojito. Afterwards, I felt ready to do the Tapatío. But I took it slowly and appreciated the sharp drink in slow measured steps rather than down it all.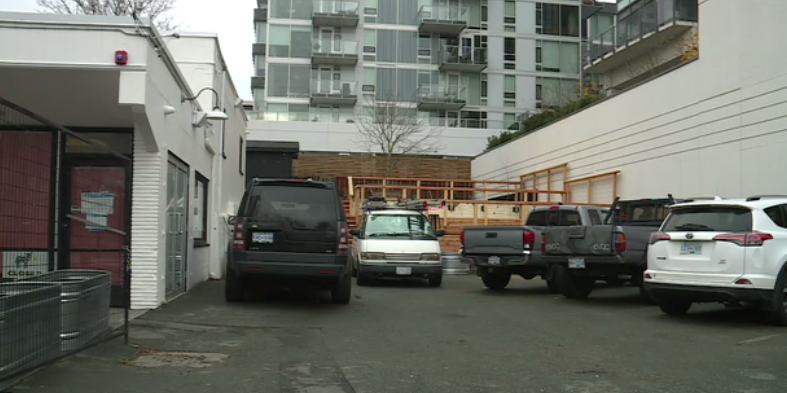 With the season finally a-changing, sitting outside is a must, but it's a bust without–as Don said–some added entertainment so the space doesn't feel Spartan or look like it's part of a parkade. More decor is needed. I hope they can offer up Greco inspired meals too otherwise, this place is hit and miss. Though they're categorised as mexi, I think varying their menu up is a must if they're to last.
But one day, I will return to sample their Street Corn Salad charred corn salad. As much as I'd love to have one on the cob, this may be the only option lest I go down to this country myself to sample authentic street food. Burritos are too commonplace, and there are times I want to explore the bizarre: that includes satisfying my entomological interests–cuchamas, anyone?
3¼ Blokes out of 5